'Unlocking Warwick' is the name of the volunteer group based at the restored Court House in Jury Street, helping to bring the building back to life as a hub of community activity and celebrating Warwick's cultural heritage.
We organise events, research Warwick's social history, and bring it to life with dramatisations and tours of the building for visitors and residents. Unlocking Warwick is a non-profit association, with officers elected each year and a management committee. The volunteers come from all walks of life, but share an interest in exploring Warwick's rich heritage.
Working closely with Warwick Town Council, we are an independent group which aims to be self-financing. We meet as a group every two or three months, or more frequently if we are organising a big event.
There are sub-groups organising continuing activities such as historical research, tours of the building, and the monthly socials 'In the Ballroom' and 'Ballroom Board Games'.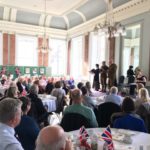 What we do. The volunteers aim to make the Court House in Jury Street a centre of community activity as it was in Georgian times, while encouraging visitors to the town. For example, we organise:
Tours of the Building, to explain some of the town's fascinating social history.
Educational visits for local schools.
'In the Ballroom' – a monthly social group with talks, activities, a quiz and tea, coffee and cake.
'Ballroom Board Games' with a tea and time to chat on the fourth Tuesday of each month.
Help in the Visitor Information Centre – we assist at busy times of year.
Research: finding local stories and past court cases at the Records Office to be posted on our website or for dramatic reconstructions.
Special projects – In 2018, the centenary of The Armistice,  we researched the stories behind the 358 names from WWI on the war memorial and launched a special website about Warwick in the Great War. In 2020, the names from WW2 were researched and added to the website, and 14 servicemen whose names were missing from the memorial were added on two new plaques, in a ceremony on the centenary of the memorial's unveiling.  www.warwickwarmemorial.org.uk
Community Events – exhibitions, musical performances, period dances, talks. We are open to suggestions.
Why not join our group to get involved in the community, develop new skills, learn more about Warwick's past and make new friends?